Just a few short months ago, Scarlett Johansson split from hubby of 2 years, Ryan Reynolds. Who does she rebound with? Is it some hot guy to really stick it to RyRy, and show him what he's missing? Nope. Homie don't play like dat! Homie keeps it real. Really real, apparently, because Scarlett's new man is none other than old fart, Sean Penn.
WTF, Scarlett, he's literally TWICE your age.
I see how Sean P. could be quite the catch for a more … umm, mature woman; he is a very successful actor, after all; plus he's a total dbag, and what woman doesn't totally dig that?
But seriously, Scarlett's got herself a nice pair of ta-ta's, and the rest of her isn't half bad either. On top of that, one might also consider her acting career to be relatively successful. So, with all that going for her, you'd think she could do a little better than some old geezer. I mean, she was married to the Sexiest Man Alive. Whatevs though, the heart wants what the heart wants.
Scarlett and Penn claim to be nothing more than friends, but relationship rumors have been swirling around the pair since January, and things have really been heating up. Let's take a look at the evidence, shall we?
Scarlett Johansson Dating Sean Penn: Exhibit A
TMZ caught ScarPenn out to lunch in LA, February 28, where she, umm, rubbed his crotch with her foot (gross).
Scarlett Johansson Dating Sean Penn: Exhibit B
The pair took a private jet to Mexico, March 1, where they shared a romantic dinner in Cabo San Lucas, and spent the night (scandalous!).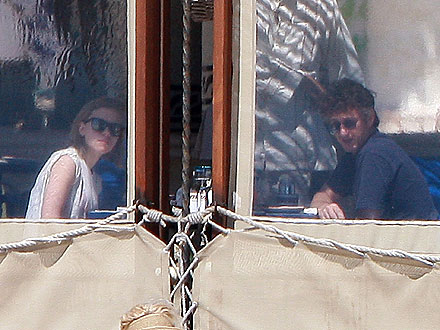 Scarlett Johansson Dating Sean Penn: Exhibit C
The two actors cozied up for a romantic evening at Hollywood hot spot, Chateau Marmont, the first weekend of March.
Scarlett Johansson Dating Sean Penn: Exhibit D
And the latest proof: The happy couple spent a fun night out with a few friends at an Italian restaurant in West Hollywood, March 19.
These days, a photo needn't show much of anything in particular to be considered hard evidence. But that's all the proof I need to believe this somewhat barfy relationship is real! The two, at the very least, have been boning for quite a few months now.